Sedation Dentistry in SE Edmonton
Completing dental care under sedation ensures a comfortable, relaxing and efficient experience for our patients. Depending on your comfort level and the type of care you need, you can select the most appropriate form of sedation for your specific concerns.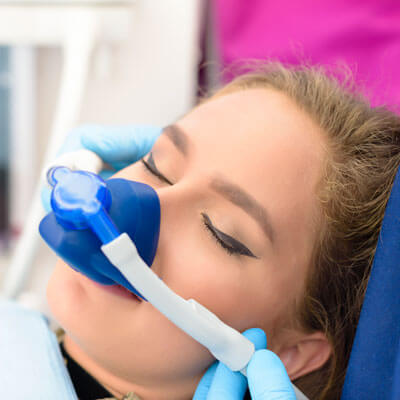 Types of Sedation
Oral Sedation—This sedative works by taking a pill by mouth just before your appointment begins. You'll gradually feel a bit drowsy, almost as if you're taking a light nap. Oral medications also provide a bit of an amnesic effect, so there's the possibility that you may not remember much about your visit.
Nitrous Oxide (Happy Gas)—Laughing gas is an option for our patients undergoing dental extractions with our visiting specialist. Nitrous oxide is an inhalation sedation that's fast acting and quickly reversible, so there is no lingering drowsiness. You can easily drive yourself home afterward.
Numbing Medications
We use local anaesthetic to numb teeth that require treatment. We also use a numbing gel to maximise patient comfort during the numbing procedure.
Advantages of Dental Sedation
Requesting sedation during your appointment allows you to complete more procedures in fewer visits. When you feel as comfortable as possible, you're able to achieve a healthier mouth even if you have mild to moderate dental anxiety. Sedation helps to bridge the gap between dental phobia and accessing the care you need.
Many people find that completing their first visit with sedation helps them feel more comfortable in the dental office. From there, they plan routine checkups to keep their oral health in the best shape possible.
We're Here to Help
If you have questions about dental sedation and the types we use, please contact us. We're here to provide the gentle care you deserve.
CONTACT US

Sedation Dentistry SE Edmonton, Ellerslie, Walker AB | (780) 540-8828