Oral Surgery in SE Edmonton
Sometimes it's essential to remove badly infected teeth that are non-restorable. In other instances, it may be an impacted wisdom tooth that's causing you pain. We perform most dental extractions in our office, including wisdom tooth removal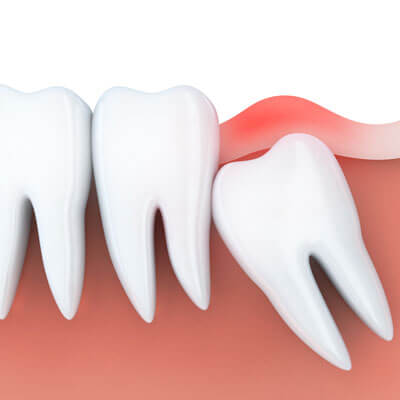 In more advanced situations, we bring in a separate doctor to perform surgical extractions that require specialised care. Sedation is also available to ensure a pleasant experience. No outside referrals are necessary.
Why Choose Us
At Aurora Dental, we provide comfortable oral surgery with our various sedation options. We will not begin your surgery until we ensure you are entirely comfortable. Dr. Rakhee, who worked at a denture clinic in a small town in Michigan, has extensive experience providing full-mouth extractions. She also has considerable experience performing wisdom teeth removal.
Because of Dr. Rakhee's skill set, she can provide quick and efficient extractions that are less likely to produce complications or pain afterward. Another benefit of having an extraction performed at our dental office is you don't have to see an oral surgeon. "The fees are almost twice what we're going to charge. So we're a far more economical option for taking out teeth and we've got the same tools available to us," she said.
What to Expect
On the day of your surgery, you should eat breakfast and take any medications. Once you're here, we'll provide you with the necessary anesthetic to ensure you are entirely comfortable. You'll be given enough anesthetic, not just for the procedure but also for a few hours after your surgery (which can be the most painful time).
Once you're numb, we'll show you your teeth on the X-rays or photos we take. The reason we do that is, so you understand why your tooth needs to come out. We'll also inform you of your options for replacing the tooth.
Then, when you're ready, we'll lay you back in the chair. You can watch television or Netflix during your procedure.
You may just feel slight pressure when your dentist removes the tooth, but nothing more than that. Once your tooth is out, we pack it and will stitch the area using self-dissolving sutures.
We'll always make sure that patients remain in the chair for about five minutes before leaving the appointment
Post-Surgery Instructions
Following your surgery, you'll be given take-home instructions on what you need to do for your post-operative care. We'll do a follow-up phone call with you to make sure everything is going well.
FAQ
It depends on the sedation you receive. If you're having oral sedation, we make sure that you have somebody to pick you up as you can't drive afterward. However, if you elect to just have nitrous sedation, then you can drive yourself.
If my child needs a tooth extraction, how will you help them feel comfortable?
We do a great job of helping kids feel at ease. In particular, we usually tell lots of tooth-themed stories, which works well as an effective form of distraction.
Are extractions covered by insurance?
Most extractions will be covered by almost every insurance.
What kind of complications may arise following an extraction?
Dry socket is probably the main culprit. That's when you lose the blood clot that formed in the tooth extraction site. If you lose that clot, the body has to slowly make a new one. While it makes it, a dull, achy pain is often experienced.
Again, we provide follow-up instructions in the pamphlet we'll send you home with. You'll be given information on how to avoid dry socket, or, if it occurs, what to do.
How do you address dry socket?
When you come in, we put a paste in the socket-a eugenol gel. It provides 24 hours of relief. Depending on when the dry socket occurred, you might have to apply the gel two or three times.
Schedule an Appointment
Contact us today to book a convenient appointment for extractions in SE Edmonton!
CONTACT US

Oral Surgery SE Edmonton, Ellerslie, Walker AB | (780) 540-8828