Restorative Dentistry in SE Edmonton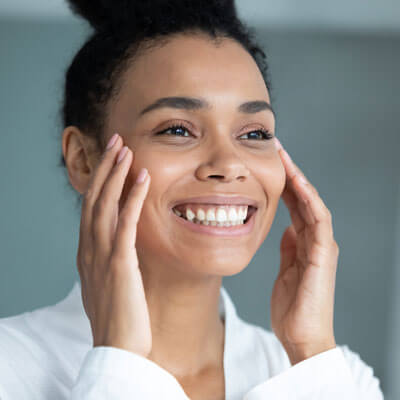 If you have damaged or missing teeth, you need high-quality dental solutions to restore your smile. At Aurora Dental, we offer exactly that. Here's a look at our restorative dentistry options to help you smile with confidence!
Fillings
While no one likes to be told they have a cavity and require a filling, advancements in treating cavities have been made over the years. At our practice, we provide fillings painlessly. Our durable and aesthetically-pleasing white fillings are crafted to blend perfectly with your other teeth.
Crowns and Bridges
Crowns or 'caps' fit over existing teeth to replace missing or damaged tooth structures. Typically, they are used after root canal therapy to strengthen a tooth and with an implant to replace a missing tooth. A dental bridge is composed of two crowns on either side of the missing tooth connected to an artificial tooth, called a pontic, in the middle.
Root Canals
Endodontic treatment is used to remove infected tissue from the roots of a tooth below the gum line. Root canal therapy can preserve the part of the tooth above the gums, minimise further damage and prevent loss of the tooth, which would lead to more complex and costly treatment.
With our
sedation dentistry
options, any discomfort will be greatly minimised during your root canal procedure.
Inlays and Onlays
Highly durable, inlays and onlays are used to fix teeth that are too damaged for a filling and not damaged enough to necessitate a crown. An inlay is placed between the cusps (points) on the top of a tooth; an onlay is placed over one or more cusps. Inlays and onlays look very natural, and are colour-matched to your other teeth.
Dentures
Although they've been around for years, today's dentures are considerably more comfortable and natural-looking than those of the past. We offer partial dentures that replace several missing teeth, and full dentures that replace all your teeth. An immediate denture can also be provided on the day of extraction, so you will have a denture to wear.
Book an Appointment
Discover how our restorative dentistry options can help you achieve a smile that exudes confidence. Contact Aurora Dental today to schedule an appointment with Dr. Paul, Dr. Rakhee or Dr. Travis!
CONTACT US

Restorative Dentistry SE Edmonton, Ellerslie, Walker AB | (780) 540-8828