General Dentistry in SE Edmonton
As a general dentistry practice, we offer the most comprehensive oral health services to our patients. Our streamlined care process makes quality dental care easier to afford, regardless of what your smile has gone through in the past.
Head and Neck Exams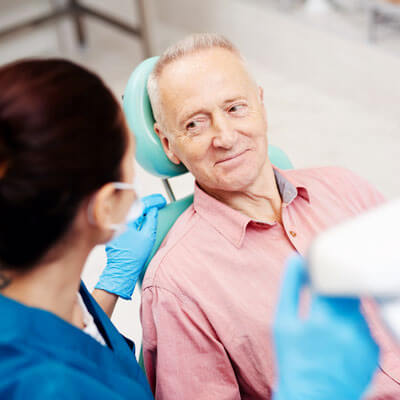 Every dental exam begins with an assessment of the head and neck, ranging from joint (TMJ) function and range of motion to checking your lymph nodes. The way your teeth fit together (occlusion) will also be evaluated. We'll also review your full medical and dental history to discuss any risk factors or concerns.
Oral Cancer Screenings
The best treatment for oral cancer relies on early diagnosis and intervention. Unfortunately, it's almost impossible to identify oral cancer on your own until it's quite pronounced.
Digital X-rays
In addition to traditional digital photographs, we will also take specific X-rays of various teeth throughout your mouth. These images provide us with a baseline of your dental health, bone height and oral anatomy. They also allow us to screen for disease that is not visible during a visual exam. We will occasionally update specific X-rays at future appointments as needed.
Hard and Soft Tissue Exam
As we begin to evaluate the inside of your mouth, we'll perform a gum disease screening to rule out any periodontal infection. The integrity of existing dental work is also checked as we screen for concerns like tooth decay.
What if I Need Treatment?
Should we notice anything concerning during your exam, we'll discuss the treatment options available to correct them as early as possible. We'll set you up on a six-month cycle for preventative care visits, including cleanings, to help you reduce recurring oral infections in the future.
Due for a Dental Checkup?
Reserve your new patient exam or six-month checkup today. We can't wait to welcome you into the practice!
CONTACT US

General Dentistry SE Edmonton, Ellerslie, Walker AB | (780) 540-8828