Dental Cleanings in SE Edmonton
Preventative dental care is the foundation of a healthy smile. Through professional cleanings and early therapies, it's possible to reduce the risk of tooth loss from gum disease and decay.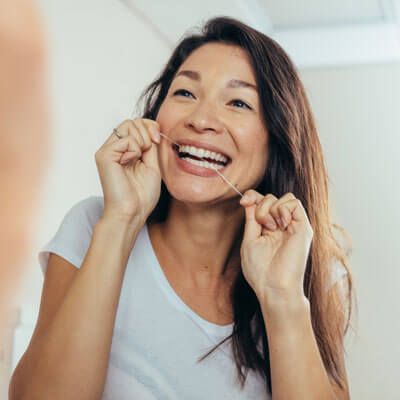 What Happens During a Cleaning?
Most of our patients with healthy teeth and gums benefit from a professional cleaning every six months. During your visit at Aurora Dental, our hygienist will gently remove buildup and evaluate any issues such as sensitivity or swollen gums. If you would benefit from a modified oral hygiene routine, we can recommend home care techniques to help.
After your teeth are cleaned, we'll use a gentle polishing paste to remove surface stains. Most of this discoloration comes from things like the food we eat or dark liquids, such as coffee. We'll also have you rinse your mouth with a fluoridated mouthwash and set you up with a take-home bag with floss and toothpaste.
Should there be any areas of concern, we'll use a high-resolution digital camera to take a photo. That way you can see the same thing that we do.
Screenings/Exam
In addition to your dental cleaning, we'll also screen for oral cancer, gum disease and tooth decay. If your gums are infected or additional cleanings are needed, we will make you aware ahead of time. Periodontal therapy may be recommended.
Will I Need X-rays?
We will occasionally take follow-up X-rays at your recall appointment. Usually, only four or so are needed, unlike the full mouth series taken during your new patient appointment.
Home Care
To keep your smile healthy between checkups, plan to brush twice a day for a minimum of two minutes. Daily flossing is also essential. Our hygienist can show you how to effectively remove buildup in a safe and gentle manner.
Request Your First Visit
Reserve a hygiene appointment for you or your family today.
CONTACT US

Dental Cleanings SE Edmonton, Ellerslie, Walker AB | (780) 540-8828