Paediatric Dentistry in SE Edmonton
One of our greatest passions at
Aurora Dental
is helping children achieve and maintain optimal oral health and a bright, beautiful smile! Our cheerful dental office is designed with children in mind.
Dr. Rakhee
is also a fun and friendly pediatric dentist. She never talks down to children and ensures that both the child and parent are comfortable.
The Happy Visit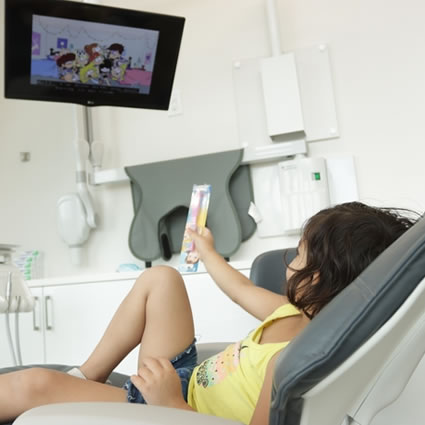 We recommend that you bring your child in by the age of one or when their first tooth has erupted. Parents are always welcome into the operatory.
This appointment is called a "happy visit," and it's complimentary. Even if your child isn't ready for an exam, that's okay. It's a great time to provide parents with information of what they can expect moving forward and what they should be doing in terms of brushing, for example.
The point of every happy visit is exactly that-to make sure that the experience stays happy. So when your child gets to an age where we can do the cleanings or any work, they won't have any fear about coming to the office. They'll be friends with the dentist and be familiar with our office environment. Children also can watch their favorite show or movie on Netflix while they're receiving dental care.
Getting Rid of the Sugar Bugs
When your child is ready to receive dental care, we make it fun! With young children, we talk about sugar bugs camping out in the teeth. Then when we remove the decay, we tell them that there are different colored sugar bugs in there. We'll also let them know that we're "shampooing" the tooth during cleaning with blue "shampoo." Then we wash off the shampoo.
After the tooth is cleaned then we use our "hairdryer" so that we can relate the experience to taking a bath, so children understand the steps we're going through.
Providing Efficient Treatment
One of the ways our practice is different from others is Dr. Rakhee works very quickly, enabling her to take care of a lot of dental treatment in just one visit. We have the following services available to kids:
Checkups and cleans
Crowns
Fillings
Fluoride treatment
Root canals
Sealants
We also offer nitrous oxide, which is considered to be highly safe for children.
Contact us today to schedule an appointment with pediatric dentistry SE Edmonton! We accept insurance and offer payment plans.
CONTACT US

Paediatric Dentistry SE Edmonton, Ellerslie, Walker AB | (780) 540-8828