Meet Dr. Paul Delhon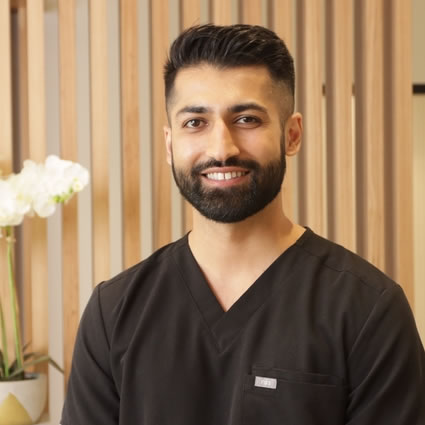 With aunts and uncles working in dentistry, Dr. Paul decided to follow in their footsteps and become a dentist. "As early as high school, I knew I wanted to work in dentistry. I also wanted an opportunity to work with my hands."
Obtaining a Dental Education
Dr. Paul attended dental school at Nova Southeastern University. He earned a Doctor of Dental Medicine. He's been in practice since 2014. "A highlight of my education was working with the diverse population in Florida and underserved patients." Dr. Paul appreciated the rigorous classes he took, including endodontics. "It's difficult working on a patient in immediate pain. As soon as you can relieve them of pain, however, it's highly satisfying."
To further his education, Dr. Paul takes many continuing education courses-far more than is required for his license. He and Dr. Rakhee also attended the American Academy of Aesthetic Dentistry conference. The invitation-only conference is held every year.
Finding Fulfillment Helping Anxious Patients
What Dr. Paul found surprising during his time in dental school was how many people had bad experiences visiting the dentist. "Those experiences gave them a mental block. That stopped them from going to the dentist and get problems treated." Dr. Paul finds it fulfilling to help patients overcome dental anxiety and get out of pain.
Providing Care for the Entire Family
From young children to older adults, patients of all ages are welcome at Aurora Dental. Dr. Paul offers a range of dental services, from general dentistry to cosmetic dentistry.
EXPLORE OUR SERVICES
Outside the Practice
When he's not caring for patients' smiles, Dr. Paul enjoys hiking, biking and traveling with Dr. Rakhee. Self-described foodies, they also love having a good meal at one of SE Edmonton's many fine restaurants.
Dr. Paul and Dr. Rakhee are passionate about giving back to those in need. They provide free dentistry to an underserved population through The Alex Dental Health Bus. The charity is an oral health clinic on wheels.
Contact us today to schedule your first appointment with Dr. Paul!

Dr. Paul Delhon | (780) 540-8828