Root Canals in SE Edmonton
Our practice offers in-house endodontic treatments for our patients. Our advanced equipment and technology allow us to safely and comfortably complete your root canal to get you out of pain as quickly as possible.
Do I Need a Root Canal?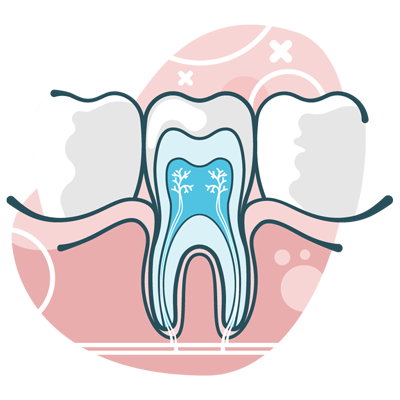 Endodontic treatment is typically one of the last lines of defence for broken or infected teeth. By the time most people find out they need a root canal, the options of a simple filling or crown are no longer appropriate. Root canal therapy treats the inside of a tooth, where the nerve is dying, infected or traumatised by some type of oral injury.
By removing the nerve and filling in the void inside of your tooth, we can eliminate the source of pain and seal out recurrent infections. Most importantly, we can delay the need for an extraction.
What to Expect
Getting a root canal is simpler than it used to be. Especially with the techniques and technology that we utilise today. No one will need to "tough anything out". Rather, we aim for your visit to be a peaceful—and sometimes even boring—experience. We encourage you to bring an audiobook to listen to, as the visit can require up to 1-2 hours to complete. Some of our patients even fall asleep.
We take our time to ensure an extremely gentle experience. Nothing is rushed and there is no reason to expect anything to feel uncomfortable.
Why do I Need Root Canal?
If the inner nerve of your tooth is exposed to bacteria, decay or severe trauma, it will cause the tooth to die, erode and/or cause pain. During a root canal, we halt the deterioration process and preserve your natural tooth. Otherwise, complete tooth loss is inevitable.
Reserve an Exam
Does your tooth hurt? Is it abscessed? Contact our office today to discuss the next steps for restoring your smile.
CONTACT US

Root Canals SE Edmonton, Ellerslie, Walker AB | (780) 540-8828