Dentures in SE Edmonton
Do you have missing teeth? We work with our patients to help them preserve as many healthy teeth as possible. But if you need to have teeth removed or already have several missing ones, we also offer custom appliances to help you get your smile back.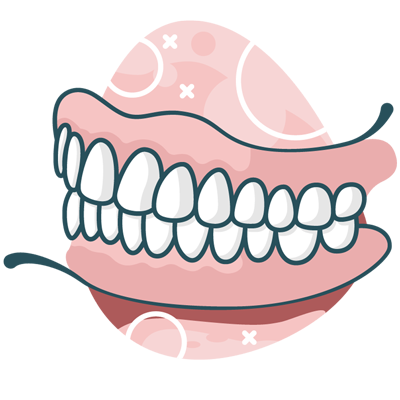 Immediate Denture Options
If you're having teeth taken out, we can fit you with an immediate denture that you wear on the date of their removal. That way you don't go home with an empty mouth; you will instantly have a denture to wear. Keep in mind that same-day dentures will need to be adjusted or updated as your mouth heals and the shape of the bone adapts to your missing teeth.
Full vs. Partial Dentures
A full denture replaces all your upper or lower teeth at once. Whereas partial dentures only replace missing teeth and fit into place next to the healthy teeth you still have. If you have any cavities or gum disease, those infections will need to be addressed before your mouth is healthy enough for a partial denture.
Dentures are made from acrylic (for optimal aesthetics) or a metal base with acrylic on top of it.
How Dentures are Made
Aurora Dental will send an impression of your mouth to our lab, where your custom prosthesis is made by hand. It takes about a week for the denture to be fabricated and we can adjust it as needed to ensure you're happy with the results.
Daily Denture Care
It's important to remove your denture nightly to keep your mouth healthy. Soak your prosthesis in an effervescent cleanser overnight and brush it clean with a soft toothbrush or denture brush at least once daily. Clean your mouth with a soft washcloth or toothbrush at least twice a day.

Dentures SE Edmonton, Ellerslie, Walker AB | (780) 540-8828